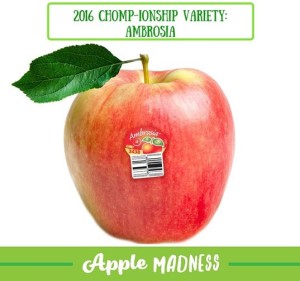 The all-purpose Ambrosia apple variety claimed the top spot last week in U.S. Apple Association's (USApple) fiercely competitive, first-ever "Apple Madness" bracket tournament.
Modeled on the NCAA's "March Madness" basketball tournaments, the five-week, five-round online competition spotlighted 32 apple varieties and fresh health facts.
USApple and its members connected with millions of consumers throughout March — National Nutrition Month — online, on social and in media, encouraging votes at USApple.org/AppleMadness and sharing apple facts. The competition earned a whopping 25,682 votes by month's end.
Each week, tried-and-true veteran varieties ("Buzzer Beater" Braeburn), popular favorites ("Hoops" Honeycrisp), and up-and-comers ("Jumpball" Jazz) faced off as they tried to advance in each of the five rounds, including the Fresh 32, Vitamin-C Sixteen, Edible Eight and Fiber Four.The final National Chompionship round pitted "Fadeaway" Fuji against the ultimate winner, "All Day" Ambrosia.
The variety first appeared in the Similkameen Valley of British Columbia, where a chance seedling appeared among a row of newly planted Jonagold apples farmed by Wilfrid and Sally Mennell.
Reached at their home this morning, the Mennells said they were delighted by the victory. "What's satisfying is it's the same apple today as the apple we first tasted," said Wilfrid.
Asked about the "All-Around" moniker, Sally said it appeals to people of all ages because it's low-acid and has thin skin. But, added her husband, it's still crunchy with a lot of juice.
"It's great for CMI (Columbia Marketing International)," she said, "they've done a great job."
That first chance seedling flourished into a healthy apple tree, and in the early 1990s it bore its first fruit. According to www.ambrosiaapples.com, the apples were so attractive and delicious that pickers working in the orchard stripped the sapling clean and ate all the fruit.
The Mennells naturally decided to produce more of the fruit. To their excitement, the resulting apples were as perfect in appearance and taste as the apples from the original mother tree.
The Mennells named the bi-colored apple variety "Ambrosia", which in Greek mythology means "food of the gods."
In 1993, with the help of the Summerland Varieties Corp., (formerly PICO – Okanagan Plant Improvement Corporation), the Mennells registered the new variety of apple and took it to market. Today the Ambrosia apple is available for purchase in stores all around the world.
"It was a chance seedling, and when you see hectares and hectares in the U.S. and New Zealand that came from that one seedling in your orchard, it's a pretty amazing experience," said Sally Mennell. "It's its own thing."
Throughout the tournament, participants entered to win a host of apple-related prizes from members such as Borton Fruit, Chelan Fresh, Envy Apples, JAZZ Apple, Knouse Foods, Michigan Apples, New York Apple Association, Pennsylvania Apples, Pink Lady America, Red Jacket Orchards, Sage Fruit, Tree Top, and Washington Apple Commission.
"Apple Madness gave our industry a fresh, creative opportunity to share variety facts, important health research and delicious recipes with consumers — all while connecting the entire roster of our exceptional varieties to everyone's favorite spring pastime, March Madness," said Wendy Brannen, Director of Consumer Health and Public Relations, USApple. "In true March Madness fashion, where the unexpected can be the norm, it was virtually impossible for us to predict the winner. Ambrosia — sporting its pink and yellow jersey and playing both sides of the court (snacking and baking) — ground its way through to the end against stiff competition. Congratulations to the Ambrosia growers and fans everywhere!"