U.S. apple growers need to wake up, according to the man in charge of produce for one of the top retail chains in the nation. Randy Riley, Director of Produce Merchandising, The Kroger Co., delivered the keynote address at the annual U.S. Apple Association (USApple) Outlook Marketing Conference in Chicago, and he pulled few punches.
On growers continuing to pack old, tired varieties: "I hate 'Red Delicious.'"
On increasing competition from other types of fruits, such as grapes: "They're telling their story better than you."
And on what could be the biggest problem, too many varieties: "It's confusing to the consumer."
Add that all up, and you end up with total apple volume sold at U.S. retailers declining a depressing 11% over the past five years, Riley says. He has a pretty clear picture of what's happening, as Kroger has 11 million customers a day at its 2,782 retail grocery locations in 35 states. He notes there are other factors hurting sales that are out of growers' control, such as the number of households declining by 4% year-on-year, as families are more apt to purchase apples than singles.
But there are steps growers can take, Riley says. Too much internal competition from "less than ideal" varieties is a big one. For instance, not many sales today come from declining varieties such as 'Braeburn,' 'Cameo,' 'Golden Delicious,' 'Jonagold,' 'McIntosh,' and – of course – 'Red Delicious.' These declining varieties are a burden on the whole category because they're taking up valuable display space.
"As one SKU comes in," Riley says, "one has to go out."
Apple growers can learn from other industries, such as airlines and automobiles. It was only a decade ago that a few U.S. automakers nearly went bankrupt because they too were stuck with outdated models. What did the U.S. automakers do with their declining varieties, which had perceived quality issues? "They cut out the dead weight," Riley says.
Look at General Motors. Oldsmobile? Gone. Pontiac? Toast. Even Hummers, which had loyal fans more than willing to pony up big dollars, are no more.
Apple growers are going to have to take similar big risks if they're going to survive, Riley says.
Veteran Grower's Take
One grower who has been sounding a similar alarm bell for many years about variety confusion among consumers is John Rice, Vice President of Rice Fruit Co., Gardeners, PA.
"Yes, too many varieties are causing consumer confusion, and only a handful in the market today can make it in the long run," he says. "If apples were given more space (at retail) they would sell more, but that's not going to happen."
Rice has long been respected in the industry, and in fact was American Fruit Grower and Western Fruit Grower magazine's first Apple Grower of the Year. He was chosen as the initial recipient for his diligent defense of the industry regarding the uproar — which later proved to be wildly overblown — over the Alar growth regulator.
Rice says that over the next five to 10 years, retailers will carry a core of six to seven varieties. Then another five to seven out of the other 75 potential varieties will make it in year-round. Then there will be a few niches of club apples, such as one Rice grows, 'Kiku.'
"We've been selling 'Kiku' for 10 years, and it's still fighting for its place in the marketplace, because it's hard to grow the category very much," he says. "One of the things we've seen over the years is that retailers will try a new variety for a month, but it takes more than a month to catch on. If a consumer likes it, comes back to find it, and it's not there, even though they loved it, they will soon forget about it."
Another problem Rice sees is that too many of the new varieties are too similar.
"Among the apples vying for space on the shelf, there's no 'Wow' factor," he says. "They are so similar to apples we already have; they will produce disappointing sales in the long run."
The next few years are going to be really interesting, says Rice.
"There will be a general shakeout in the next five to 10 years, and I see many of these new varieties getting grafted over or pushed out, as only a handful of varieties will be successful," he says. "I think people need to buckle down because it's going to be a rough ride before the whole thing settles out."
That said, there is one new variety that's coming to retailers this December – nearly a half-million boxes are expected – that looks like a can't-miss, both Riley and Rice agree. 'Cosmic Crisp' formerly known as WA 38, is the first commercial variety produced by Washington State University's tree fruit breeding program. A cross between 'Enterprise' and 'Honeycrisp,' the large, juicy, red apple has a crisp texture like its more famous parent.
The name, "Cosmic," was chosen for the apple's starburst-like pattern on the surface, resembling the cosmos. "Crisp" links to its parent, 'Honeycrisp.' It can only be grown by Washington growers, but because Washington produces about 75% of the nation's fresh crop, and growers in the Evergreen State are betting heavily on it, forecasted production numbers are astounding.
Though 465,000 boxes are expected this year – they begin shipping Dec. 1 – that's just the tip of the iceberg. By 2023, Washington growers are expected to produce 14.6 million boxes, which would exceed the amount of 'Honeycrisp' apples produced today nationwide. By 2026, projections call for a whopping 21.5 million boxes.
$10 Million Campaign
Selling all those apples is a tall order, calling for a bold new approach in the apple business — a $10 million marketing program. Heading up the campaign is Kathryn Grandy, Director of Marketing for Proprietary Variety Management of Yakima, WA.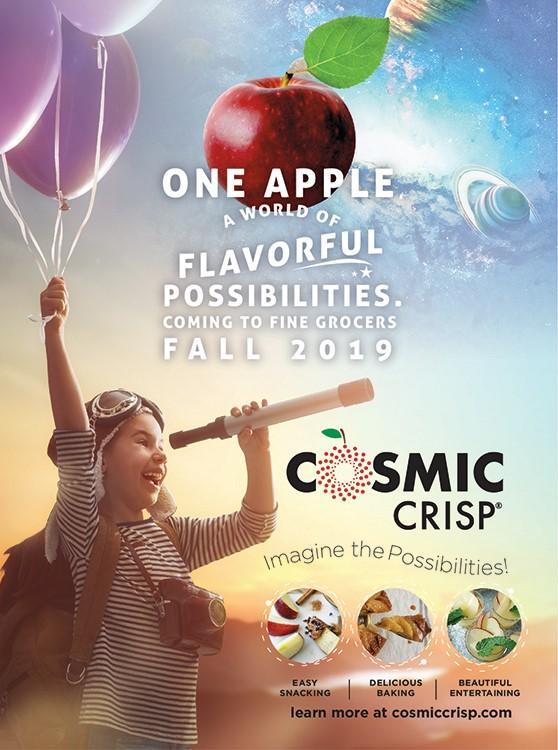 "It's unheard of," Grandy says of the 'Cosmic Crisp' introduction. "Our way of commercializing this has never been done before. Of course, we've never had a cultivar come out of Washington before, so the growers helped fund the research and now the marketing program. It's been researched for a long time, and it's the one everybody thought would be a great apple."
Grandy says only Washington growers would be capable of such a massive program, the capability to grow, pack, and store – and storage is a critical element – that kind of volume.
"It is so many apples, we will have a critical mass, so we need a marketing program. We can't just plop it on the shelf and hope somebody buys it, as Randy (Riley) talked about," she says, adding that such a program is not unusual elsewhere. "If we were launching a consumer product, $10 million would be nothing."
Grandy notes that it's only because Washington produces so many apples that the 'Cosmic' campaign seems so unusual. But Washington isn't alone. When she embarked on the project, she counted 37 branded apples in the U.S.
"Every region has their own, such as 'SnapDragon' or 'RubyFrost' out of New York, or 'EverCrisp' out of the Midwest she says. "The apple industry has been prolific in developing new brands."
The 'Cosmic' marketing campaign includes some innovative aspects, such as supporting the Missoula (MT) Children's Theatre, the largest children's theater in the world. It has appeared in all 50 states and produces a show involving the kids at a given school in a single week. All the kids involved, including the audiences, get 'Cosmic' samples – 2-ounce bags from Crunch Pak, which will be "the exclusive slicer" of the variety. Another company, Litehouse, Inc., will exclusively produce 'Cosmic Crisp' brand cider.
Grandy believes such a marketing campaign can work in the produce aisle, pointing to the tremendous success achieved by California citrus growers with small, easy-peel mandarins branded as 'Cuties' and 'Halos.'
"With 'Cosmic Crisp,' we have what we think is the quintessential apple — beautiful, super-crunchy, outstanding flavor, stores great in or out of CA (Controlled Atmosphere), or in a fruit bowl, and it bakes well," she says. "There's a lot of things we're going to learn, but we have come up with an apple we believe in. It's not an in-and-out apple. It will be on the shelf year-round, and we have very large volumes coming."
That's not the greatest news to growers in other parts of the country, such as Rice. He thinks 'Cosmic Crisp' will do extremely well in the first few years, with a price close to 'Honeycrisp' until the market starts getting flooded. After that, it will be difficult to keep prices up, and not just for 'Cosmic.'
"'Cosmic Crisp' is a good apple, 'but I'm not sure I would call it great. I'm expecting that apple to make quite a splash. Because it's supported by so many shippers, I think it will be successful in the market, but I don't think it will be good for the apple category in general," he says. "I think there will be selling pressure, because it's a supply without a proven demand. My experience with 'Honeycrisp' is that it made for a price umbrella that fit new club varieties nicely – not as high as 'Honeycrisp,' but a premium. In Washington, they are planting 'Cosmic Crisp,' not 'Honeycrisp,' which will ratchet up selling pressure, lowering the price we will get for other varieties."
---
Ensuring 'Out of this World' Quality
Proprietary Variety Management (PVM), in conjunction with the Quality Standards Subcommittee for 'Cosmic Crisp,' has set the quality standards for the 2019 crop year and fresh market launch. Based on test orchard research provided by the Washington State University (WSU) Apple Breeding program and Washington Tree Fruit Research Commission (WTFRC), the standards assure that the apple provides the best possible eating experience and delivers a consistent brand promise when it is distributed to retailers later this year, says Grandy.
Due to the very slow starch movement exhibited by 'Cosmic Crisp,' researchers expect growers to benefit from a long harvest window, from late September into the second week of October, depending upon orchard location. A harvest timing study, conducted by the Tree Fruit Research Center, was carried out in 2018 to help narrow the optimal time frame down for growers, balancing starch clearance, color, size, and minimizing defects. Experience shows that a minimum starch clearance must be achieved prior to harvesting 'Cosmic Crisp.' This will assure that starches will continue to clear, and flavor is developed properly.
For the 2019 harvest, it was determined that a baseline starch reading of 2.5 must be achieved in the orchard before harvest can begin. A starch scale was developed by WTFRC specifically for 'Cosmic Crisp.' The starch scale will be found on various industry websites, in print, and included with information provided by PVM.
Professor Stefano Musacchi and his team at the WSU Research Center have conducted extensive dry matter studies of 'Cosmic Crisp.' These studies provide indicators of quality and flavor, including Brix, acid content, pressure, and consumer acceptance. In conjunction with the starch movement research, they illustrate 'Cosmic Crisp' does not reach full flavor development until the fruit has rested in storage for a while in postharvest. They also reveal that fruit from younger, more vigorous trees, when harvested and stored correctly, will also develop full flavor, although at a slightly slower rate.
"Originally, we weren't going to ship any second-leaf fruit. But research showed that while it takes longer to build flavor in younger trees, it does sugar up, and as long as it meets quality standards, we're allowing shipments of second-leaf fruit," Grandy says. "We're really focused on getting growers the best returns while delivering a great eating experience for consumers, so we're trying to be really comprehensive in our approach. That's been our strategy all along; we're really collaborative."