For American Vegetable Grower's inaugural presentation of "Variety Specs,"  a feature highlighting top performing varieties from leading seed breeders and distributors, we gathered information on the latest varieties with high yields, a good resistance package, and more — all in a very reader friendly format.
Our first installment of variety specs focuses on watermelon, and as you will see in the following pages, key information including days to maturity, yield potential, weight, etc. — will be right at your fingertips.
Stay tuned, as each month we will feature a different crop. Coming soon: tomato varieties.
Bijou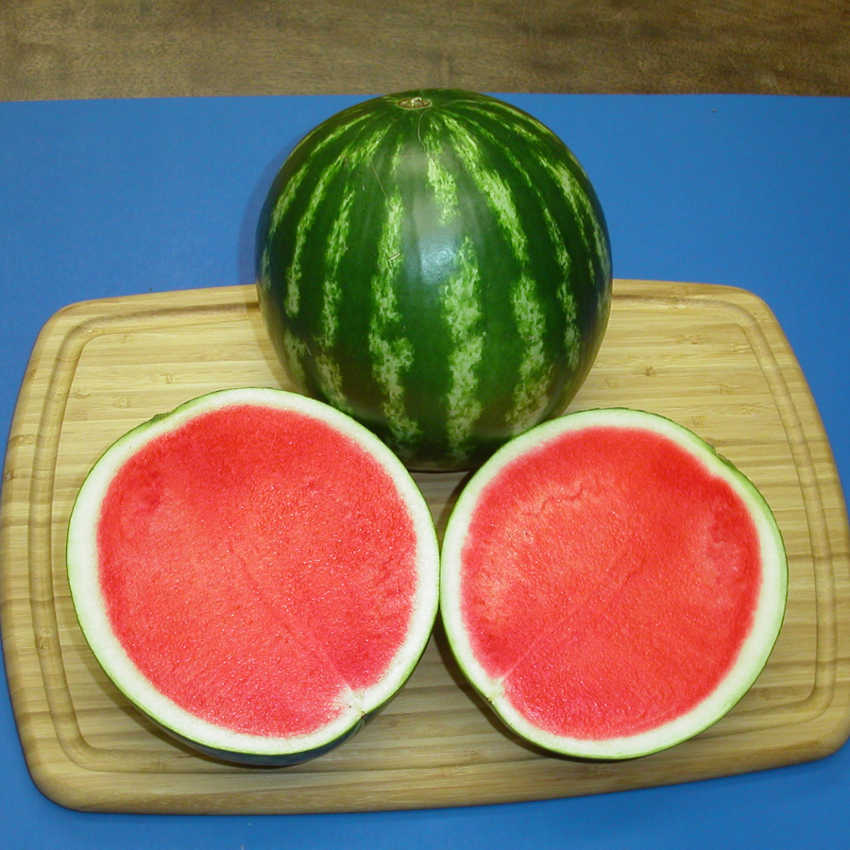 Company: Golden Valley Seed
Shape: Round
Weight/length: 3.5 to 4 pounds
Seedless/seeded: Seedless
Disease resistance/Tolerance: Fusarium 1,2; Anthracnose races 1,3; gummy stem blight; downy mildew
Color: Deep red
Holding ability in the field: Very good
Days to maturity: Medium-early
Yield potential: Very high yields
Region(s) best suited for production: California, Arizona, New Mexico, Texas, Southwestern U.S.
Brix level: 13% to 15%
Other attributes: Inside flesh is firm and crispy; it is good for individual servings
---
Captivation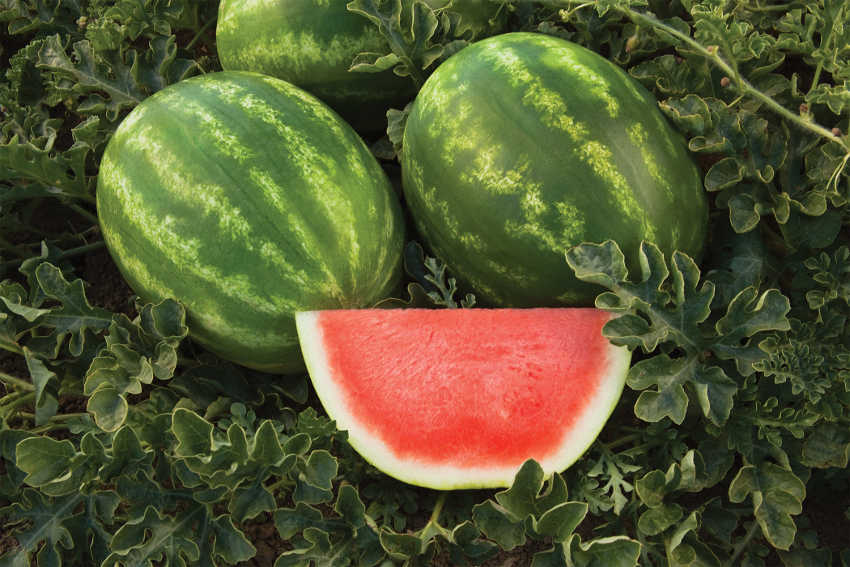 Company: Syngenta
Shape: Blocky
Weight/length: 14 to 17 pounds; 10 to 11 inches in diameter
Seedless/seeded: Seedless
Disease resistance/Tolerance: Intermediate resistance to Anthracnose caused by caused by Colletotrichum orbiculare race 1, Fusarium wilt
Color: Red flesh, deep-green rind, crimson sweet stripe appearance
Holding ability in the field: Good
Days to maturity: 89
Yield potential: High
Brix level: 12%
www.syngenta-us.com/seeds/vegetables/
---
Kingman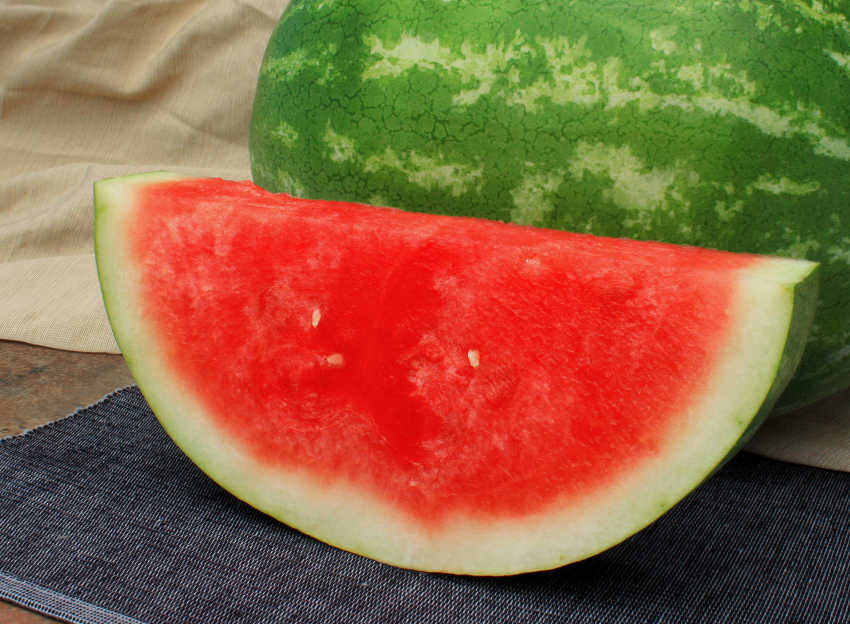 Company: Sakata Seed America
Shape: Round/oval
Weight/length: 18 to 22 pounds
Seedless/seeded: Seedless
Color: Light green with medium-green stripes, bright-red flesh
Holding ability in the field: Excellent
Days to maturity: 85 days from transplant, mid-maturing
Yield potential: High
Region(s) best suited for production: U.S., Mexico, Canada
Other attributes: Crisp and firm flesh, strong vines, great eating quality, 36-count bins
---
SV0258WA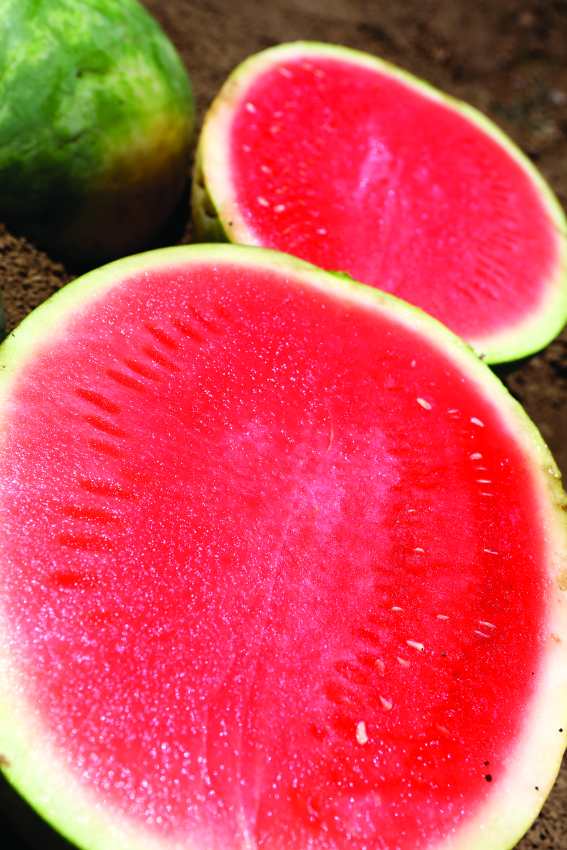 Company: Rupp Seeds
Shape: Oblong
Weight/length: 15 to 17 pounds
Seedless/seeded: Seedless
Color: Dark mottle-striped rind, bright-red flesh
Holding ability in the field: Excellent
Days to maturity: Approximately 83 days
Yield potential: High
Region(s) best suited for production: Midwest and Northeast
Brix level: Very high
Other attributes: 36 to 45 count for bins, strong vine, produces well on weaker soils
---
Citation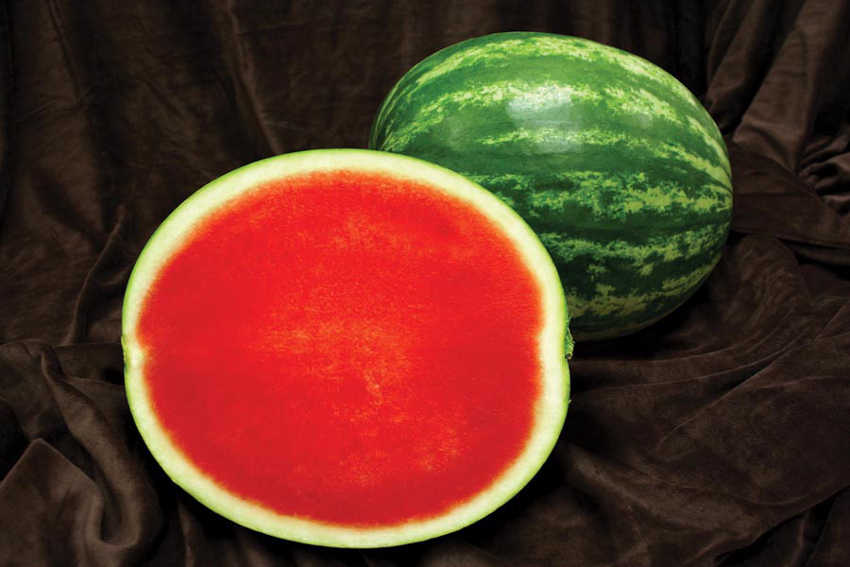 Company: Seedway
Shape: Round/oval
Weight/length: 10 to 14 pounds/60 count
Seedless/seeded: Seedless
Color: Medium-green rind with dark-green stripes, deep-red flesh
Holding ability in the field: Good for very early maturing variety
Days to maturity: 76
Yield potential: Excellent early yields
Brix level: 11% to 11.5%
Other attributes: Reliable free-setting for early crops
---
Cut Above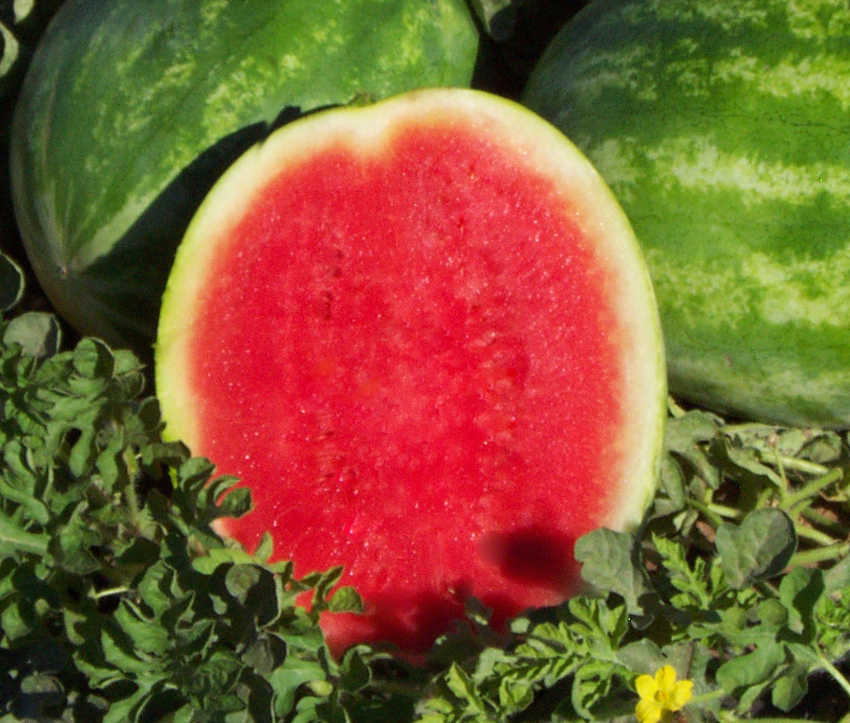 Company: Clifton Seed Co.
Shape: Round/Oval
Weight/length: 15 to 17 pounds
Seedless/seeded: Seedless
Disease resistance/Tolerance: Intermediate resistance to Fusarium wilt, gummy stem blight
Color: Bright-red flesh, medium-green rind with green stripes
Holding ability in the field: Excellent
Days to maturity: 85
Yield potential: High in all field trials and commercial plantings
Region(s) best suited for production: Adaptable to all watermelon regions
Brix level: High
Other attributes: Excellent shipping capabilities
---
Harvest Moon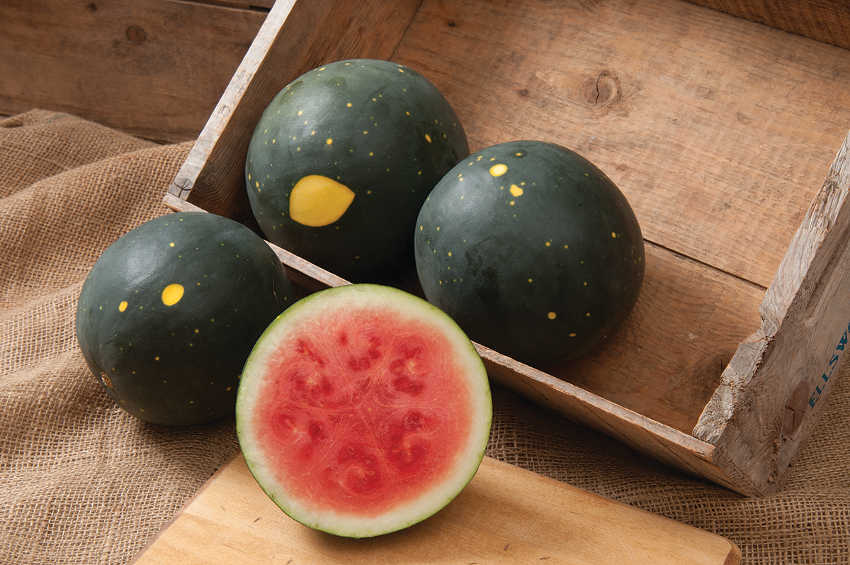 Company: Johnny's Selected Seeds
Shape: Oval
Weight/length: 8 to 13 pounds
Seedless/seeded: Seedless
Color: Dark-green rind with small yellow markings ("stars") and large yellow markings ("moons"), and
red flesh
Days to maturity: Early to ripen
Yield potential: Average of 2 to 3 fruit per plant
---
Sweet Polly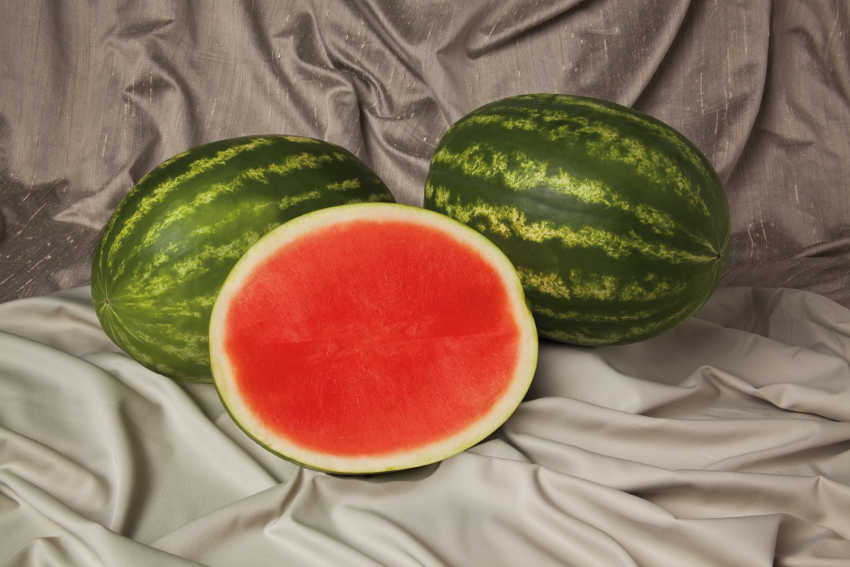 Company: Siegers Seed Co.
Shape: Oval, blocky
Weight/length: 15 to 18
Seedless/seeded: Seedless
Disease resistance/Tolerance: Intermediate resistance to Anthracntose 1, Fusarium wilt 0-1
Color: Bright-red flesh
Days to maturity: 88
Yield potential: Extremely high
Region(s) best suited for production: All
Brix level: High
Other attributes: Very vigorous vine, great shipper with outstanding internal quality
---
Traveler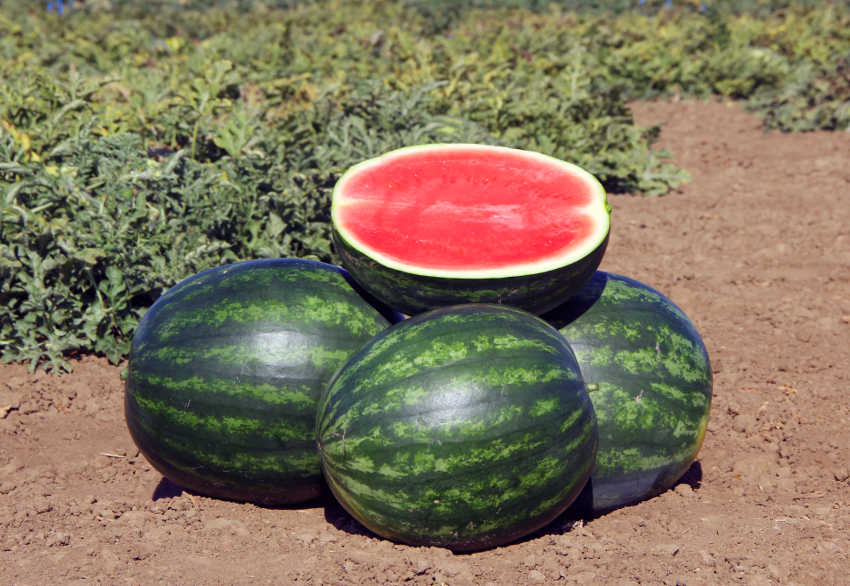 Company: Harris Moran
Shape: Blocky
Weight/length: 15 to 20 pounds
Seedless/seeded: Seedless
Disease resistance/Tolerance: High resistance to anthracnose caused by Colletotrichum orbiculare race 1
Color: Deep red
Holding ability in the field: Excellent
Days to maturity: Mid-early
Yield potential: High
Region(s) best suited for production: Main/hot season slots
Brix level: 11% to 12%
Other attributes: Has hollow heart tolerances, displays adataptability in adverse conditions, good uniformity
---
Triple Treat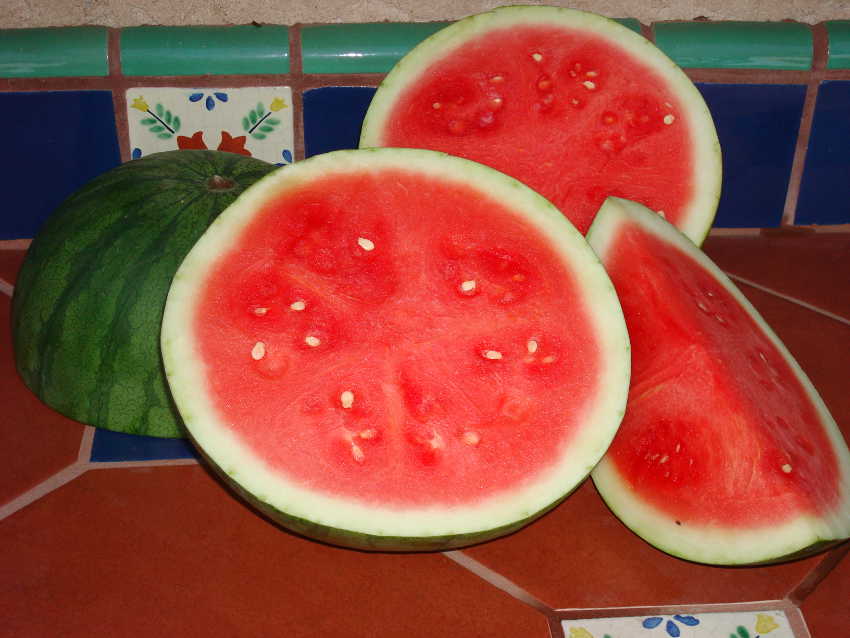 Company: Seeds By Design
Shape: Round
Weight/length: 8 to 10 pounds; 12 to 13 inches in diameter
Seedless/seeded: Seedless
Color: Red
Days to maturity: 70 days from transplanting
Brix level: 14%
Other attributes: Ice box type