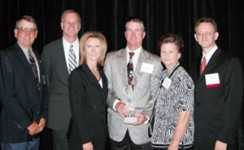 Gary Shiflett Farms, Deming, NM, has been selected from a record number of nominations as the winner of the 2005 Grower Achievement Award.
The Grower Achievement Award was presented to Gary Shiflett Farms September 14, 2005, at the United Fresh Fruit & Vegetable Association Washington Public Policy Conference in Washington, DC Six additional production agriculture businesses were named as national finalists for the award.
"My dad taught me to put the Lord first, be a man of your word, and look at obstacles as opportunities to overcome," said Gary Shiflett, owner of Gary Shiflett Farms. "My dad is the one who taught me many valuable things about farming, but much credit is due to the excellent weekly advice and dedication that my agronomist has given me over the past 27 years."
The Grower Achievement Award is sponsored by Syngenta Seeds/ROGERS® Brand, and presented by Meister Media Worldwide, publisher of American Vegetable Grower, American Fruit Grower, Western Fruit Grower, and Florida Grower magazines, in cooperation with United Fresh Fruit & Vegetable Association. The award, presented annually, recognizes growers that have taken production agriculture to new levels of innovation, commitment to food quality and safety, and technological advancement.
"It is with pride that Syngenta/ROGERS sponsors this award. Innovative growers who lead the adoption of new technologies are those who will lead the industry into the future. We are delighted to acknowledge these outstanding innovators," said Dan Burdett, Head of Vegetables, NAFTA of Syngenta Seeds/ROGERS Brand. "To be honored with the Grower Achievement Award, a producer must do all of these things well all of the time."
Nominees are evaluated based on criteria that include industry leadership, community outreach, the adoption of new technology, and innovative consumer-oriented marketing efforts.
"The impeccable standards set by these growers provides a groundwork of excellence that extends throughout our industry and into the hands of consumers," said United President Tom Stenzel. "The United Fresh Fruit & Vegetable Association is pleased to salute these growers for their outstanding ingenuity, dedication, and hard work."
Previous winners of the Grower Achievement Award include A Duda & Sons, Oviedo, FL; Betteravia Farms, Santa Maria, CA; and Michael Farms, Urbana, OH.
"The many nominations we received for this year's award are examples of the excellence and the diversity of today's commercial produce industry," said American Vegetable Grower editor Richard Jones. "Their operations range in size from as small as 20 acres to as large as nearly 10,000 acres, and produce almost every vegetable crop you can imagine. What they share, however, is a commitment to what they do, and what they contribute to their industry and their communities.
"The Grower Achievement Award program provides an opportunity to bring some well-deserved public recognition for the contributions of our industry as a whole, as well as for those growers whose hard work and innovative ideas help feed our nation and the world."