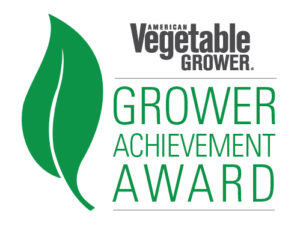 Each year, American Vegetable Grower®, with support from United Fresh Produce Association, selects a grower to honor with its prestigious Grower Achievement Award. And each winner is selected from an impressive list of nominees given to us by growers like you, suppliers, and consultants. We are now officially looking for the American Vegetable GrowerSM 2018 Grower Achievement Award winner.
Are you striving to be a sustainable vegetable growing operation? Do you embody the spirit of excellence in our industry? Are you looking to implement the latest technology on the farm?
Or do you know a grower operation that is innovative and stands above the rest?
If you answered "yes" to any of these questions, we want to hear from you! To find out more about the award or to submit a nomination, fill out the form below.
Here's what we're looking for:
Displays Industry Leadership. Not only are they involved with others in the industry and act as advocates to local or national government, but fellow growers turn to them for new ideas.
Pursues Innovative, Consumer-Oriented Marketing Efforts (including sustainability and community involvement)
Strives for Excellence in Food Quality and Safety
Embraces Technological Advances
Eligibility Requirements:
Must be a commercial vegetable grower in North America
Demonstrates excellence and innovation
His or her achievements can help other growers improve
Deadline: Friday, June 1, 2018
Contact: Carol Miller, [email protected]; 440-602-9207
Why Jones Potato Farm Won in 2017
Alan Jones of Jones Potato Farm in Parrish, FL, approaches all problems with a mindset of, "How can I be part of the solution?"
For example, when he heard consumers blame farmers for harming the environment, he pushed past his knee-jerk defensiveness and assessed his practices. After changing his irrigation methods, he found a way to save 1 million gallons a day on his 3,000-acre farm.
He brings a similarly innovative spirit to solving common production issues. He wanted to fine-tune fertility and pest control applications, so he recruited ideas from his consultants, his local ag associations, the Nature Conservancy, and tech companies. Working together, he now has a brilliantly simple soil mapping system that allows field workers to know exactly what to apply where (and when).
If you know anyone like this, make sure you submit their name for us to consider for this year's Grower Achievement Award!
Past Winners
To date, 15 deserving farms have been called to Washington, DC, to receive American Vegetable Grower's annual Grower Achievement Award at United Fresh's Washington Conference. Here is a list of the past recipients. Who will be added for 2018?
2002: A. Duda & Sons, Oviedo, FL
2003: Betteravia Farms, Santa Maria, CA
2004: Michael Farms, Urbana, OH
2005: Gary Shiflett Farms, Deming, NM
2006: Teixeira Farms, Santa Maria, CA
2007: Anthony Farms, Inc., Scandinavia, WI
2008: Lewis Taylor Farms, Tifton, GA
2009: Hansen Farms, Inc., Stanley, NY
2010: Alstede Farms LLC, Chester, NJ
2011: TKM Bengard Farms. LLC, Belle Glade, FL
2012: Steven Lyles Farms, Las Cruces, NM
2013: Torrey Farms, Elba, NY
2014: Sakata Farms, Brighton, CO
2015: Pero Family Farms, Delray Beach, FL
2016: Tasteful Selections, Arvin, CA
2017: Jones Potato Farm, Parrish, FL