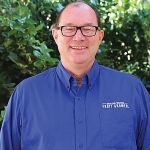 If ever a joke didn't work in print, that headline is it. It's a takeoff on the signature joke by the late comedian Henny Youngman. He would, in an entirely normal conversational tone, say "Take my wife," and wait just a beat — precisely the correct amount of time — before adding "Please."
Even though it was late in the great comedian's career when I first heard the joke, and he'd probably told it thousands of times, I roared. I thought it was genius; my own wife, not so much.
But the part about climate change is apt. You'd feel the same way if you'd spent as much time as I have researching the topic for this month's cover story. I soon realized any attempt I would make at helping fruit growers with how to prepare for the changes that many think are occurring, as well as those that yet may unfold, would be futile.
Simply not enough space, and even then I couldn't presume I wouldn't be wildly off base. Predicting the future, when Mother Nature has the last say? Laughable.
And if that weren't impossible enough, I soon discovered the semantics were an almost insurmountable problem. That's because when most people talk about climate, they are actually referring to weather. It's just human nature. People say, "It's a beautiful day." Not: "It's a beautiful millennium."
As we know, climates change over time for a number of reasons, but even the lengths of climatic ages can vary wildly. According to a definition by the World Meteorological Association, they are just 30 years.
That seems too short to me. I mean, I was around 30 years ago, and I don't recall it being that dissimilar. It's not like there were dinosaurs walking around. Now that sounds like a different climate.
But the preponderance of scientific evidence shows that it has indeed gotten warmer in the past 30 years. Not much, perhaps, but if you go back say 150 years, the evidence gets very weighty indeed.
The problem, like I say, is human nature. I grew up on the East Coast, and we rarely got a White Christmas. We'd get snow before Christmas, sure. I recall one year when I had to deliver 40-odd Thanksgiving newspapers bulging with ads in a driving snowstorm. But it seemed like the snow usually melted before Christmas, if we got any December snow at all.
But over the past few years, they have a White Christmas every year. Many of my relatives back there say "Global warming — are you nuts?"
Which leads us back to the semantics. With climate, you're not talking a couple years, a couple White Christmases. That's weather.
The best way I found to explain it was a quote believed to be first uttered sometime in the 1800s. Like a lot of great quotes, especially from that era, it has been attributed to Mark Twain. But the people who spend a lot of time looking into such things couldn't prove it, and in fact couldn't attribute it to any one person. Like a lot of great sayings, I think it's a distillate of a lot of contributors.
Anyway, this is it: "The Climate Is What You Expect; The Weather Is What You Get."
In other words, a few years of the Polar Vortex in the Eastern U.S. does not mean that global warming is a myth. The climate is warming. Even if you don't believe it, the rest of the world does, including your buyers. And as everyone knows, they have the last word. ●