Being a young female grower in a predominately male field where the average age hovers around 60, brings both challenges and rewards. Sara Corey, the 2013 Maine Potato Board's Young Farmer of the Year, has met all of those challenges with the same tenacious "can-do" attitude commonly found in growers who have spent decades in the field.
A second-generation grower, Corey grew up on her family's potato farm, Daniel Corey Farms, in Monticello, ME, and at 23 years old, is the youngest recipient of the Maine Potato Board's Young Farmer of the Year award. She is also the first female.
Corey's official working title on the farm is Director of Agronomy and Variety Development, which includes an impressive breadth of responsibilities that expand as needed. On any given day she can be found in the office managing exports from Monticello all the way to Egypt, in the lab testing tissues, out in the field harvesting, or monitoring the tractors in the field with the advanced GPS app she acquired for the farm.
Hard work is in her DNA, and Corey's calm and collected approach to an amount of tasks and responsibilities that many typical 23-year-olds might balk at is refreshing to say the least.
Young Beginnings
The farm was established in 1986 by Corey's father Daniel, a first-generation farmer, and began as a 52-acre potato operation for the processing and table market. Flash forward to today and the farm has more than 1,000 acres of seed potatoes distributed up and down the Eastern seaboard, as well as for export to a number of countries including Egypt, Brazil, and Uruguay.
By the time she was 12 years old, Corey was required to work on the harvester during her school's three-week break during peak harvest time. "You'd get off for three weeks, and we were made to work, that's just how it was. So I was always on the harvester, and I was always in charge of getting my friends to help," she remembers.
Not surprisingly, her early years on the farm significantly shaped her work ethic and sense of responsibility, and as an added bonus, taught her the value of a dollar.
"You're working three weeks in a row, 90 hour weeks, and it's not much more than minimum wage. We were always raised that if you want something, you work for it. So the harder you work, the more you get out of it. I definitely use that now," she shares.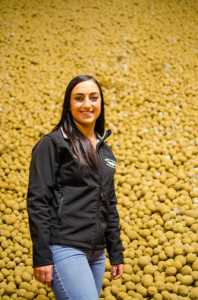 After spending the bulk of her teenage years on the farm, it was finally time for Corey to graduate high school and make some serious decisions. Was she going to leave the farm and pursue her undergraduate degree? Or was she going to stay on the farm doing what she knew best, and secure the future of her family's legacy?
Turns out, in the end she was able to do both. When asked what initially inspired her to leave the farm, she explains her thought process:
"You're graduating high school and you've got this great big road ahead of you, and it's so exciting. I didn't have anything against the farm. I just wanted to do my own thing, and like any kid out of high school, that's the mindset."
Corey eventually went on to receive her Bachelors in chemistry at Husson University in Bangor, ME, but during her second year there, had a change of heart that had her longing to return to the farm.
"[School] wasn't for me, and that's when I realized that Dad could really use my help on the farm. I really liked it there and it was very good for me," she says.
Does she regret her decision to go to school and get a higher education? Not for a second. "It's really important nowadays to get a degree, and who knows where farming is going to be, you know? It's just nice to have a backup," she says.
New Varieties On The Rise
After receiving her bachelor's degree in chemistry from Husson University in Bangor, ME, just two years ago, Sara Corey returned to the family farm and is already off to a running start. Corey dabbles in all aspects of the business, but one of her primary focuses on the farm is seed potato variety development. She says that the farm is receiving new, high-quality varieties that work well in different growing regions, which enables growers to increase their profitability.
During the variety development process Corey explains that they typically bring in new varieties based on market demand, plant a small amount of that variety, and send samples out to growers who decide whether or not they're interested based on performance, flavor, etc. If they receive good feedback, they'll grow more of the variety, and have more supply the coming year.
Some varieties Corey is currently experimenting with are fingerlings, exotic varieties including purple skin/yellow flesh, and purple skin/purple flesh, small garden varieties including an organic variety that's resistant to late blight, and others suitable for the chipping and processing markets.
Continue reading on the next page…