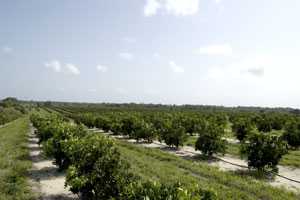 The latest Florida orange crop forecast follows an all-too-familiar pattern for the state's producers. Once again, the estimate has shrunk from previous outlooks. USDA now forecasts the 2013-2014 Florida orange crop at 115 million boxes, down 5% from its December estimate (121 million boxes). During the 2012-2013 season, Florida produced 133.6 million boxes of oranges.
USDA estimated early-mid orange varieties at 54 million, down 2 million and Valencia at 61 million, down 4 million from December. Florida Citrus Mutual blamed the decrease on fruit drop caused by citrus greening disease. "Once again, citrus greening rears its ugly head," said Michael W. Sparks, executive VP/CEO of Florida Citrus Mutual. "We are in an unprecedented situation dealing with this disease and today's crop estimate only emphasizes how important it is for research to uncover a solution."
Where do you think the 2013-2014 Florida citrus crop count will ultimately finish?
100 to 115 million boxes (69%, 45 Votes)
Less than 100 million boxes (22%, 14 Votes)
115 to 125 million boxes (6%, 4 Votes)
More than 125 million boxes (3%, 2 Votes)
Total Voters: 65
Loading ...
The USDA's estimate of the 2013-2014 Florida grapefruit crop is now 16.5 million boxes down 200,000 boxes from December. Specialty fruit is now at 4.4 million boxes, also down 200,000. The yield for frozen concentrate orange juice remained the same at 1.61 gallons per 90-pound box.
Each month, USDA will revise its outlook as the crop takes shape until the end of the season in July.
Click here to see the completed USDA estimate.
Sources: Florida Citrus Mutual; USDA-NASS