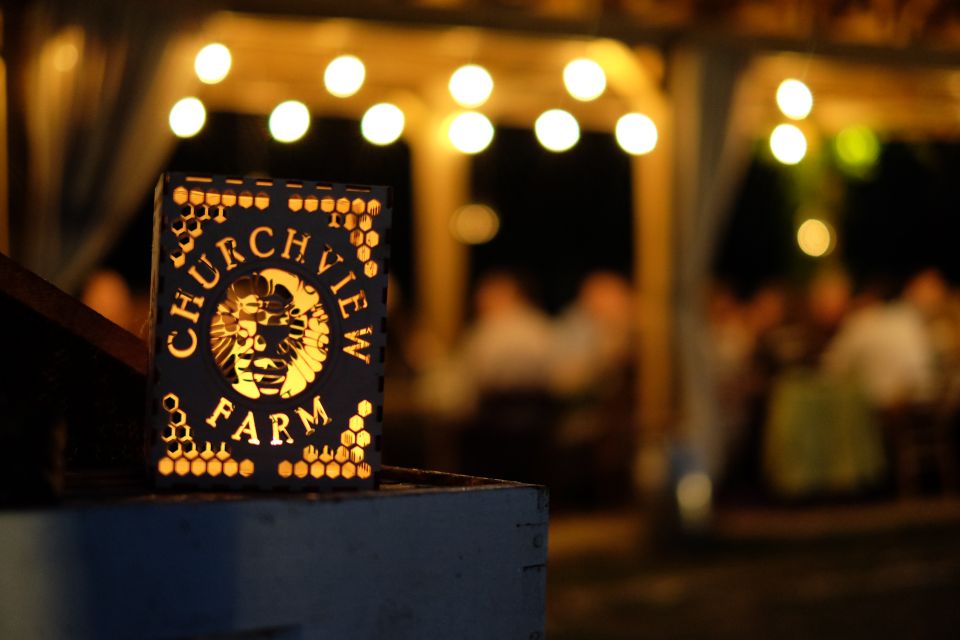 Churchview Farm luminaria with a farm dinner in progress in the background
This year, from June through September, Churchview Farm, located just outside of Pittsburgh, will host four farm dinners a month, plus a bonus one in October. Owner Tara Rockacy actually cut back the number of dinners for 2016 to make room for less expensive happy hour events. That's a lot of dinners, and building Churchview Farm to the point where these dinners are business venture has taught Rockacy several valuable lessons she is willing to share with her peers.
The dinners began the way most of these dinners begin: as a marketing effort to attract more people to her farm. But as she and her team learned how to become more efficient, while also ramping up the overall experience Churchview's guests experience, Rockacy now has a thriving business venture that is so popular that the dinners often sell out as soon as tickets are available. Take a look at her farm dinner page on her website: 10 of the 15 dinners are already sold out.
The quality of what she offers is what brings customers back again and again. But even with this huge success, Rockacy knows that her location is a key ingredient to her success. She is within 20 minutes of downtown Pittsburgh, but her property looks isolated. She's able to deliver a rural experience without making customers drive for very long to reach it.
Here's how Churchview's Farm's dinners work.
Chefs
The farm supplies fresh produce for about 20 restaurants in the greater Pittsburgh area. The chefs of those restaurants are Rockacy's main source of cooking talent for the dinners.
"I'll send them a list of all the products available on the farm. They let me know the quanity of food they want, and they can choose to have them delivered for prep."
The chefs love the opportunity to prepare menus that wouldn't make sense in a restaurant, which needs to the same ingredients day in and day out. Rockacy pays the chefs a stipend, which covers their time, as well as what she doesn't have available on her farm, like proteins, alcohol, and cheese.
"There are a lot of chefs who work really well with the our project and are able to have some money for themselves at the end of it," Rockacy says. "I don't think these chefs are driven by financial reasons. It's fun, it's a promotion, it's an opportunity to have more freedom and to cook some foods they can't for whatever reason in their restaurants."
Staff
The restaurants Churchview works with bring in their own kitchen staff and a bartender. But Churchview must arrange all other staffing for the dinners.
First, she has a high level employee who helps organizes the dinners year round. That includes marketing, lining up restaurants and parter businesses, and any other logistics that crop up. On farm dinner nights, the coordinator also check guests in.
She also has two servers, with two food runners to back them up. This helps Churchview avoid the rookie mistake of making guests wait a long time between courses or having only half the guests get the next course while the rest wait a long time for their.
Another often overlooked positions she fills are dish washers. The kitchen staff are busy cooking, and the wait staff and runners are fully occupied with serving, so having someone washing dishes throughout the night allows everyone to work shorter hours and keeps the employees working closely with guests free to focus on their jobs.
Rockacy also makes sure there is a host who will mingle with the guests and make them feel at home.
How To Make A Big Splash
It's important to Rockacy for these dinners to exceed her guests expectations.
Part of the reason is practical. She needs to make them feel like the $115 pricetag per person is justified. When she first began hosting these dinners a few years ago, she only charged $85. As she improved her infrastructure and made the dinners more enjoyable by fine tuning staffing, she has needed to increase prices every year. She was nervous about raising it above $100 last year, but the dinners sold out quickly, and are doing so again this year at the higher price.
This year was only a $5 increase and it probably should be more. I try to keep it as reasonable," she says.
The main reason Rockacy wants to make a big impact on her guests, however, is even more important to her than business health. She wants them to fall in love with local food and with sustainable farming. She wants her own passion to spread to her community. It seems to be working.
"I really want to put on a big show," she says.
So how does she make that needed impact?
First, the dinners are out of the ordinary. They tend to be five to eight courses, and one chef decided to serve a 10 course meal.
Also, everyone on the staff is on the same page when it comes to sharing what Churchview Farm does and is part of.
"The thoughtfulness that's put into the dinners extends into the staff. I require all the staff are all currently putting in time on the farm, either through work share or as regular volunteer," Rockacy says. "I think when they are interacting with a guest, they need to have a familiarity with the farm, the products we grow, and what we do here. Small details count. During a course that has a heirloom tomatoes, they can point to a place on the farm where they were picked."
On the night of the dinners, guests arrive at 5:30, walk up a 100-yard, gravel drive and are met by the host. She checks them in and directs them to a table that has a welcome cocktail for them and appetizers. They can wander the farm while enjoying their drinks.
Rockacy then gathers the guests together, welcomes them and takes them on a brief tour of the farm. Then everyone sits down to that multi-course dinner.
These experiences make converts of the guests, who spread the word with like-minded friends.
"I think that's one of the reason this farm is well know in the community at large," Rockacy says. "People just pick up on what we're doing and talk about that."
Churchview Is Investing In Its Events Business
As the dinners took off, Rockacy realized that if she wanted them to be a reliable source of income for her small farm, she needed to spend money to enhance guests' experiences and to improve the teams' efficiency.
Translated, that means the outdoor dining space now has running water and electricity. There are lights strung along the drive that guests walk along, and her chef can now cook in the outdoor kitchen, shortening the distance the waitstaff must carry food.
She has also invested in making Churchview more visually charming.
"Having events like this makes us pay attention to the aesthetics," Rockacy says.
So she hired a artist to put a mural of a giant chicken on the barn, and has put in attractive landscaping.
Since the farm emphasizes sustainability in a big way, she will soon be adding composting toilets to replace the portable trailers she used to rent.
Beyond Farm Dinners
As mentioned before, Churchview dialed back the number of farm dinners it hosts in order to accommodate its happy hour series. Rockacy wanted to find a way to include guests who could not afford the pricier dinners, which are now $115.
The happy hours include hors d'oervres, cocktails, and a local gourmet ice cream (Millie's Homemade Ice Cream) and cost only $40. Happy hour is actually three hours, lasting from 6 pm to 9 pm. And Chruchview can accommodate more guests at these event than they do with the dinners — up to 85 people as opposed to the 48 they can serve at dinner.
"It's causal and roaming," Rockacy says. "They can talk to the brewers who created the whiskey for the cocktails, and this whole time the chef is putting out food."
There are five happy hours planned for 2016.
Financially, being able to bring in 85 people helps the lower price make sense.
"It takes a bit more staff, but my overhead is lower," Rockacy says.
Rockacy has also added yoga classes to her event line ups. Once the yoga session is finished, attendees also get to eat Millie's Homemade Ice Cream while visiting. These classes are only $20.
Churchview also hosts private events, which are limited to six per season. This year is already booked out, and 2017 is very close to being so.
Early Planning Improves Cash Flow In The Off Season
As soon as the farm dinners end, the first week of October, Rockacy and the team begin planning the next season. They want to be able to post the schedule and begin selling tickets in December.
"People want to buy the dinner series for Christmas gift, especially since they've sold out so fast in the past," Rockacy says.
She used to put all advanced tickets for sale at the same time, usually in the spring. But she found that they would sell out too quickly and she'd be left with a lot of upset customers who weren't able to get tickets.
Another problem is that she'd get all the money at once. Any business owner knows it's best to have a steady stream of cash coming into the business throughout the year so any unexpected expenses can be covered. So Rockacy began staggering the release of the tickets.
She now sells tickets in December, February, and April, and she posts the dates the tickets will be released. She always holds onto about 16 tickets per dinner for various purposes — give aways, charity prizes, etc. As the dinner approaches, she will then make those final tickets available for sell.
While it helps with cash flow, she still hears from customers who weren't able to buy tickets.
"I got three emails this morning asking when I will open up the remainders," she says.
She's hoping the new happy hours will accommodate some of these disappointed customers.