Former Apple Grower of the Year Winner Passes Away
Daniel Allan Boyer, 68, of Schellsburg PA, died Sunday of a terminal illness at his home surrounded by his family.
An energetic apple grower, Boyer was well-known in the industry. He traveled the world on International Fruit Tree Association study tours, freely sharing information about his prize orchards in the rolling hills of Pennsylvania.
His family posted the following on the Ridgetop Orchards Instagram page:
"It is with great sadness that we announce the passing of Dan Boyer, founder of Ridgetop Orchards, LLC.  Mr. Boyer passed 9/4, after a hard-fought battle with a terminal illness.
"Dan was a larger-than-life figure who brought remarkable passion, experience, and energy into the beautiful orchard acres of Ridgetop. His love of the land, dedication to his family, and teachings to staff will continue to have a lasting impact in the Chestnut Ridge region he called home.
Why the New H-2A Rules Undermine Growers
"It has been said that all of the fruits of tomorrow are in the seeds of today. Dan Boyer gave us an abundance of seeds and he will live on in all of the Ridgetop family, staff, and fruits of tomorrow. His daily presence will be greatly missed."
Boyer received his Bachelor of Science degree with high distinction from The Pennsylvania State University in 1976. He immediately went to work for legendary Keystone State grower Don Amick, purchasing the 120-acre apple operation in 1980. Since founding Ridgetop Orchards, which he owned along with his wife, Lois, and sons, Seth and Mark, Boyer expanded the operation to more than 500 acres and doubled the tree density.
Boyer is past President and member of the PA State Horticultural Association and former member of Penn State University Agricultural Advisory Committee. He served on the PA Apple Marketing Board, US Apple Association Board of Directors, and the International Fruit Tree Association's Board. Boyer received the "2009 Outstanding Grower Award" presented by the State Horticultural Association of Pennsylvania.
Boyer received the American Fruit GrowerSM Apple Grower of the Year in 2006. He said at the time that the key to his success was the orchard's relatively high elevation.
"We have a great site for spring frost, and we cool off in the fall," he said, noting the combination of excellent soils and just-right elevation produced some seriously high-quality fruit. "I've been told we get some of the best color in Pennsylvania."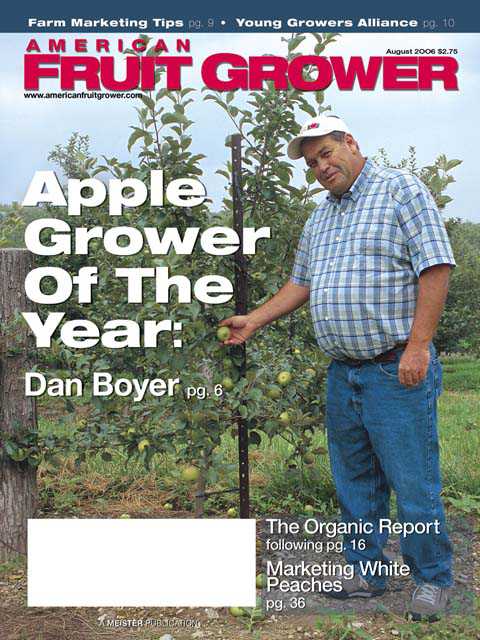 Boyer is the second prominent apple grower Pennsylvania has lost this year. Bruce Hollabaugh, whose own father Brad was named Apple Grower of the Year just three years before Boyer, died in March from a brain tumor.
Boyer cared about the apple industry deeply, a trait he passed on to his children. His youngest son, Mark, is a former chair of the USApple Association. Like many tree fruit growers, Boyer was farsighted, constantly thinking about how to improve the industry. This comment, which he made to an interviewer following his Apple Grower of the Year award in 2006, illustrates how much thought he gave to the industry's future. He speaks of the eternal quest for the perfect variety, and would not be out of place were it published today:
"We'll continue to try to be diverse," he said. "We need to come up with something that consumers don't even know they want yet."
According to an obituary published by the Johnstown, PA, Tribune-Democrat, Boyer was born May 21, 1954, in Grove City, PA, the son of the late Allan and JoAnn (Cuppett) Boyer. He grew up on their family fruit farm in New Paris alongside his brothers, Matthew and Bruce. This developed his passion for fruit growing. On July 17, 1976, he married his high school sweetheart, Lois (Miller) Boyer.
He is survived by his wife and three children: son, Seth Allan, married to Megan (Young) of New Paris; daughter, Natalie (Boyer) Toth, married to Greg Toth of Virginia; son, Mark Andrew, married to Brooke (McCoy) of Fishertown. He was so proud of his eight grandchildren, who always called him "Pap-Pap": Eva Rose, Mackenzie Grace, Alexandra Ann, Andrew George, Luke Daniel, Paul Gregory, Case Allan, and Eli Thomas.
According to the obituary, memorial contributions can be made to Trinity Lutheran Church, 106 W. Penn St, Bedford PA 15522, where Boyer was an active, long-time member. A viewing will be held Wednesday from 4 p.m. to 8 p.m., and also one hour prior to the funeral service. The funeral service will be held on Thursday at 10 a.m. Both viewing and funeral will be held at Trinity Lutheran Church. Online condolences may be expressed at He said at the time.
If you have any thoughts and/or fond memories of Dan, please leave a comment below.
1
1
5
Former Apple Grower of the Year Winner Passes Away