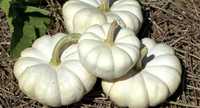 They may be little, but they sure are mighty. Gooligan and Baby Doll, that is. From Seeds By Design, Gooligan is a white Jack Be Little hybrid pumpkin with deep ribbed fruit. Vines are vigorous with excellent cover and plants set high numbers of unique fruit that weigh up to 1 pound.
Weighing between 6 to 10 pounds, Baby Doll watermelon is small enough to easily fit into the refrigerator. This variety matures in 70 days and is a yellow fleshed diploid hybrid featuring a green rind with small dark stripes. In the pepper department, Seeds By Design offers Habanero Red, a very hot variety that is said to be twice as hot as most commercial habaneros. It has a compact 30-inch plant with 1-by-2- inch wrinkled fruits.
For more information, contact Seeds By Design at 530-438-2126; www.seedsbydesign.com.