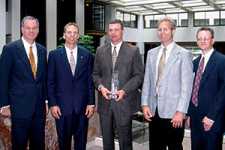 Kurt Michael, Scott Michael, and Todd Michael were in Washington, DC, on Sept. 9th, 2004 to accept American Vegetable Grower's Grower Achievement Award on behalf of Urbana, OH's Michael Farms.
"Choosing a career and being successful at it is great, but sharing that success with your community and your family is what is truly rewarding," said Todd.
The award, sponsored by Syngenta Seeds/ROGERS brand, in cooperation with United Fresh Fruit & Vegetable Association, honors grower operations that have taken production agriculture to new levels of innovation, achievement, and industry leadership.
"After talking with the winners, you come away with an understanding of the passion they have for what they do," said Dan Burdett, head of vegetables, NAFTA for Syngenta Seeds/ ROGERS brand.
"This is the first time we have presented the award at United's Washington Public Policy Conference, but I can't think of a more appropriate location," said AVG Group Editor Richard Jones. "This conference is based on the idea of getting involved and improving things not just for your own businesses, but for the industry as a whole. That's one of the key things we look for in a Grower Achievement Award winner, and it's certainly something that Michael Farms has done over the years."
Three finalists for the 2004 Grower Achievement Award: Gary Shiflett Farms, Deming, NM; Neat 'n Sweet Farms, Lakeland, FL; Sweet's Gourmet Sweet Corn, North Ridgeville, OH; were also recognized during the event.