While the University of Central Florida (UCF) is a world class institution with one of the largest enrollments in the country, it is not a school that jumps to mind when considering agricultural research. But, this could be changing as a new center of excellence was established there with a focus on sustainable agriculture. In addition, a number of other ag projects engaging the latest in technology are being researched at the university.
The Materials Innovation for Sustainable Agriculture (MISA) Center of Excellence was launched at the beginning of the year. The Center was initiated as part of a $1.9 million research grant from the USDA awarded to Dr. Swadeshmukul (Swadesh) Santra, an Associate Professor in UCF's NanoScience Technology Center and Department of Chemistry.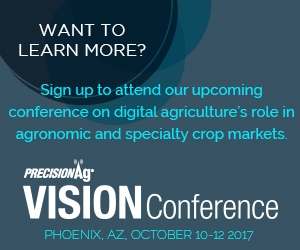 "MISA is a training platform for our young faculty and younger generation," Santra says. "We have many undergraduates who never thought about selecting agricultural research as their profession, so MISA will motivate them to follow this career path."
MISA has set lofty goals, seeking to become a global platform for scientists, growers, regulatory agencies, and the industry to exchange ideas and skills. The Center plans to coordinate research efforts, improve academic and public education on agricultural diseases, and develop practical and economically feasible treatment methods.
To say MISA came to be by happenstance is not too much of an overstatement. Santra moved to UCF from the University of Florida in 2005. His work focused mostly on human health and biomedical research in the beginning.
Not long after Santra had received tenure at UCF, he was approached by undergraduate student Tamre Parsons about citrus canker. Having grown up in Central Florida, she expressed interest in conducting a research project that might help growers dealing with the bacterial disease because she knew friends and neighbors impacted by canker.
"When she asked me if I knew anything about citrus canker, I said: 'No, what is it?'" Santra says. "So, I told her let's do a Google search on citrus canker. We quickly saw all the results and it was clear this was a real problem for growers."
That Google query was the beginning of what would eventually evolve into the MISA Center. The search also netted a lot of results from the UF/IFAS Citrus Research and Education Center in Lake Alfred. Santra noted a good deal of research authored by Dr. Jim Graham, a Professor of soil microbiology (retired).
"Tamre emailed Dr. Graham that we would be interested in learning more about the canker problem," Santra says. "He sent back a lengthy reply about the problem and current standards in the industry. And, he felt that our email was important because nanotechnology could lead to some new opportunities to managing the disease."
Santra assigned Parsons a small project working on nanoparticles and silica. "We know silica is a good material to chelate copper, and since copper was already on the market, we decided to see if there were ways to improve the efficacy of the compound. This is how the whole program started."
Santra has since worked closely with UF/IFAS to test new materials in greenhouses and in field trials. Grove trials since 2009 have shown good results with the copper-based material developed by Santra and his team.
One of the principles that has guided Santra's agricultural research came from Dr. Tom Turpen, who is a project manager for the Citrus Research and Development Foundation (CRDF). CRDF has funded some of the agricultural work being conducted by Santra and his team.
"Dr. Turpen said to me whatever you make, it should be dirt cheap and something you could make in your Grandma's kitchen," Santra says. "In other words, if the technology is expensive and outside of the growers' budget and it is very complex to manufacture, then forget about it. CRDF has to be wise with the growers' box tax money, so I always keep this in mind for myself and when I am teaching our students."
This focus on applied research is bearing fruit. Recently, Gowan Co. signed a license agreement with UCF for exclusive rights to manufacture and distribute Santra's product, which couples copper with cutting-edge nanoscience. The product contains high surface copper particles to improve copper bio-availability. This allows for lower use rates while maintaining efficacy.
Gowan intends to bring the product to market for use on a wide range of fruits and vegetables, including citrus, potatoes, tomatoes, watermelons, berries, and more. The agreement represents the first time a UCF discovery has been licensed for the agricultural industry.
"In my opinion, this is groundbreaking," says Andrea Adkins, Assistant Director of UCF's Office of Research and Commercialization. "It is a forerunner of everything coming from UCF in agriculture."