'Envy,' a cross between 'Royal Gala' and 'Braeburn' was the envy of apple and bracket lovers nationwide as it took to the top spot in the U.S. Apple Association's (USApple) fiercely competitive "Apple Madness" bracket tournament, a five-week, five-round online competition spotlighting 32 apple varieties and fresh health facts.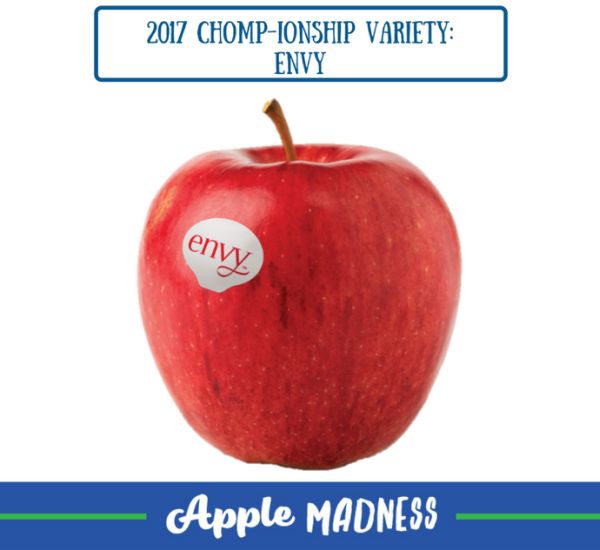 Throughout March, which is National Nutrition Month, Apple Madness earned more than 31,000 consumer votes, a 20% increase from last year's inaugural tournament.
"We are incredibly excited that consumers picked 'Envy,' proving 'Envy's' truly exceptional widespread appeal," said David Nelley, Vice President of Categories at Oppy, which manages production and sales of 'Envy' apples in the U.S.
The tournament tipped off in February at USApple.org/AppleMadness with a prediction period encouraging individuals to fill out their Apple Madness bracket for a chance to win the grand prize: a three-month supply of apples. The person whose bracket most closely matched the final outcomes of each matchup was declared the winner.
Then, in March, within weekly rounds such as the "Vitamin C-16" and "Fiber Four," the social-media-driven initiative profiled and encouraged consumer votes for tried-and-true veteran varieties (like "Ball Control" 'Braeburn'), popular favorites ("Post Up" 'Pink Lady'), and up-and-comers ("Slam Dunking" 'SweeTango').
Along the way, USApple shared apple facts, recipe ideas and health research data with millions of consumers on social media. Last week's "National Chomp-ionship" round pitted "Hoops" 'Honeycrisp' against ultimate top vote getter "Energizer" 'Envy.'
Throughout the tournament, voters entered to win apple-related prizes from members including Borton Fruit, Chelan Fresh, Domex Superfresh Growers, Michigan Apple Committee, New York Apple Association, New York Apple Sales, Oppy, Rainier Fruit Company, Red Jacket Orchards, Ridgetop Orchards, Riveridge Produce Marketing, Sage Fruit Company, and Washington Apple Commission.
"We love the opportunity to merge March's National Nutrition Month and bracket fever with this campaign," said Korenna Wilson, Director of Consumer Health and Public Relations, USApple. "It was fun to see apple fans' passion for their favorite varieties play out on social media. Congrats to 'Envy'!"
"'Envy' is selling extremely well in the U.S., and being voted champion in this fun competition is truly awesome for the consumers who enjoy 'Envy' apple and for our passionate growers," added Joe Barsi, President, North America, for T&G Global, which manages the 'Envy' apple worldwide.