It was a bit of a "Wow" moment recently for University of California Cooperative Extension's (UCCE) Franz Niederholzer, who decided to develop a chart from the California Department of Food and Agriculture's almond acreage statistics.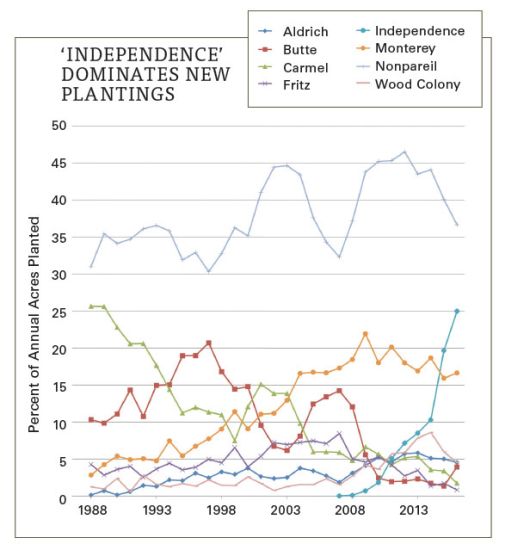 "I was just curious about patterns; growers always want to know what to plant," says Niederholzer, Orchard Systems Farm Advisor in several Northern California counties. "And as an Extension person, one of my duties is to present data so it's easier for growers to look at it."
So he posted the chart he came up with on "The Almond Doctor," a blog hosted by his UCCE colleague, David Doll. The chart showed — in quite literally graphic terms — just how much the 'Independence' almond variety had taken the industry by storm. By 2016, the most recent year available, 'Independence' represented one-quarter of all plantings, and the trend line showed no sign of slowing.
And this in an industry where there are already 300,000 nonbearing acres.
"The almond industry is the backbone of the California nursery industry — huge acreage, a marketing juggernaut," Niederholzer says. "Almonds are the bread and butter of the nursery business, which makes sense, because if almonds are going bad, the whole world is probably going bad."
There are other interesting takeaways from the charts Niederholzer prepared, such as the fact that the percentage for 'Nonpareil,' the industry's flagship variety, appear to follow the popular 'Butte'/'Padre' combination. While nowhere near as valuable as 'Nonpareil,' 'Butte'/'Padre' is much easier to farm, and when the price premium is not so great on 'Nonpareil,' the combination gets mighty attractive to growers.
But no question what sticks out is 'Independence,' which was so named because it is self-fertile, and doesn't need the pollenizing varieties almost all other almond varieties require. Pollination is a grower's single most expensive activity, 24% of cultural costs, from bloom to hull split. But 'Independence' has other advantages, notes Niederholzer.
"Everything you do, you do once," he says. "Not just harvest, but irrigation, you name it."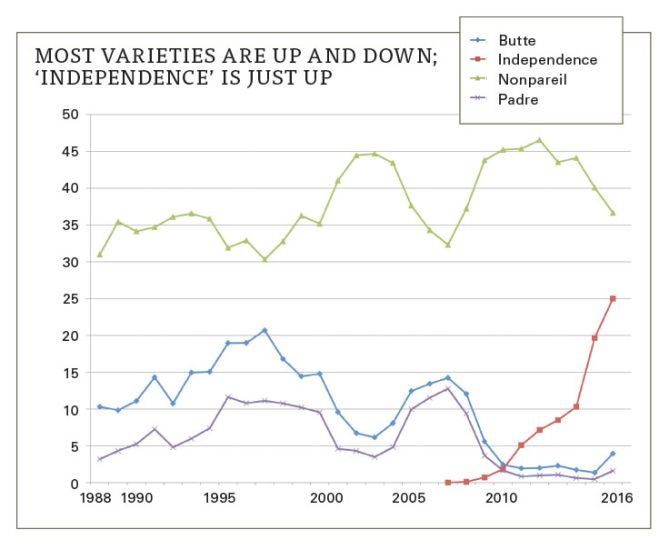 Grant Zaiger of Zaiger Genetics in Modesto, CA, who made the cross that was to become 'Independence' with his dad, Floyd, says even he was surprised by Niederholzer's charts.
"When we first selected that variety, Robert Wooley [President of Dave Wilson Nursery, which markets the variety] said 'I think it will revolutionize the almond industry,'" recalls Zaiger. "That was back in 1999-2000, and I thought he was a little over the top."
Zaiger thinks sales may not keep soaring as they have, but that's more a reflection of the industry. "I think the almond industry as a whole will start calming down a bit," he says. "But 'Independence' will continue to have a big place in it."
However, he notes new varieties will be coming down the road in the future.
"We have new varieties, all self-pollinating," Zaiger says. "I won't go backward. They must be self-fertile, productive, and have good nut quality."