This Q&A is the second installment of six featuring the 2015 Florida Grower® Citrus Achievement AwardSM winner Orie Lee, owner of Lee Groves in St. Cloud.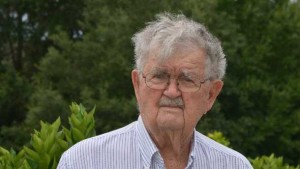 Q: What is one of the more interesting varieties you have evaluated?
A: In the 1980s, Dr. Bill Castle (UF/IFAS) and I were planning a new trial to evaluate the best round orange varieties from around the world.
In planning, it was decided to include a set of blood oranges to satisfy local curiosity. We learned that Minute Maid (MM), one of the largest growers in the state at the time, had a researcher make a widespread collection of varieties looking for better juice color. This trial was planted in one bed at MM's big grove in Indiantown. When Castle and I visited, the planting was no longer maintained. We walked down the bed, through the weeds, without seeing any useful blood oranges. As we neared the far end of the bed, we came upon a group of trees that were different, more vigorous and fruitful. The fruit was tasty and had good juice color. We decided to enter some seed in our collection. MM records identified the variety as Vernia.
The Vernia were planted in a smaller sub-block of Valencia scions; though Vernia had some positives and negatives, the positives were more impressive. Most notable was the holding quality and the February to March peak maturity date. Yield, juice quality, and maturity dates were quite desirable when compared to standard Valencia.
The arrival of HLB has created new interest in Vernia. Quite by chance, I am again involved in Vernia research with Dr. Jude Grosser (UF/IFAS), where the small planting is about five to six years old. The Vernia is planted adjacent to several other Valencia scions of current interest, together with a larger number of new rootstocks from his breeding program. The layout of this block dictates that the results will be largely observational, at least for the near term.
Special thanks to Arysta LifeScience for sponsoring the Citrus Achievement Award.