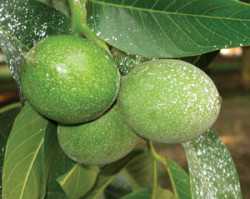 Tired of dealing with sunburn — on your fruit? Solar stress can have a serious impact on fruit quality and yield. In fact, growers can lose between 20% to 40% of their crops to sun damage.
With this in mind, Purfresh, Inc. created Purshade, a line of products specifically designed to protect fruits and vegetables from harmful solar radiation. Purshade products help reduce solar stress on fruit, which in turn boosts yield, quality, and efficiency of water use. Rated at SPF 45, Purshade products form a thin film of millions of microscopic prisms, reflecting harmful ultraviolet and infrared solar rays while letting in the light needed for growth and development.
The Purshade line is available as a wet concentrate that mixes easily with other pre-harvest sprays. The products can be applied via traditional spraying methods including aerial applications. Once crops have been harvested, Purshade can be removed through traditional postharvest processing and washing systems.
The predecessor to Purshade was Eclipse, a sunscreen developed in the Pacific Northwest and optimized for specialty crops including apples. After noting Eclipse's success and evaluating their experience in studying the physics associated with solar stress on fruit, the Purfresh staff made the decision to create Purshade. The new line complements Eclipse and addresses current agricultural challenges including high UV radiation climates, high temperature climates, and organic environments.
Visit www.purfresh.com for more information